PAL-Labs, You Best Acoustic Test Partner
PAL is an acoustic testing total solution provider. Our service includes the below two:

Perfessional acoustic test 3rd party labs

Acoustic testing total solution provider
PAL Acoustics Technology Ltd. is devoted to provide professional acoustic testing
and consulting services for IT/Telecom/Architecture industries. PAL is keeping on
researching in noise, vibration, and audio application fields. We also provide
integrated solutions for acoustic testing capability build-up.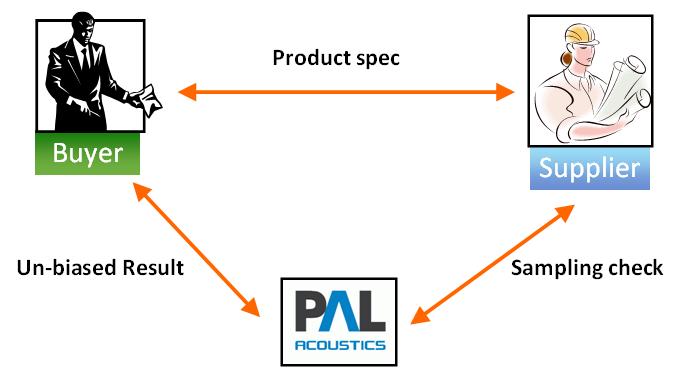 Why Choose PAL?
PAL is a professional acoustic 3rd party laboratory specified in acoustics fields for more than 15
years. PAL has tested several thousand kinds of products and established an abundant
database for various applications.
Not just measurement service, PAL also offers acoustic measurement integration service,
including providing measurement software, hardware, lab building service.
PAL's advantages are:

Professional acoustic engineer instead of operator

High-end, complete, and traceable test equipment

Fast data and reporting process

Complete acoustic database

ISO/IEC 17025 accredited report

Reasonable and customized price

Can assist customers to build in-house test capability
PAL History

2016

Start to provide hands-free communication test service for car – communication quality test
service
for Internet of Vehicle (IoV
)

Partner with Google for ChromeOS System Audio Performance Qualification

2015

Partner with Google for ChromeOS camera module qualification test service

Provide test service conforms to the requirements of Microsoft
Cortana
:
Speech Platform
Input Device
Recommendation

Establish PAL own brand noise cancelling product design center

2014

Start to provide Lync/Skype unified (Skype for Business) qualification test service

2012

Got
FCC/CS/ACIF
approval for IP phone HAC regulatory test

2011

Partner with Skype for hardware certification

2010

Established the 2nd China branch in Dongguan and built the 1st acoustic lab

Provided
TIA-920 "Transmission Requirements for Wideband

Digital Wireline
Telephones"
test service for VoIP related terminal products
and the test service
was certificated by TAF on Mar, 2011.

Certificated by Microsoft as a qualified test house to perform "
Optimized

for Microsoft Lync Logo audio test
"

Provided architectural acoustics (room acoustics) simulation, measurement, and
consulting services, including reverberation time, sound reduction index (R),
sound transmission class (STC), EDT...

2009

Got TAF ISO/IEC 17025 accreditation (acceredited scope: ISO 3744, ISO 7779,
ISO 9296, ECMA-74, EN 50332-1,
EN 50332-2) also became an ilac member

2008

Provided microphone/speaker audio performance test, including
frequency
response, loudness rating, total harmonic distortion, signal to noise ratio…)

2007

Provided
EN50332
safety test service for sound system equipment in Taipei

2006

Built the 2nd acoustic lab in Kunshan branch

Built the 3rd acoustic lab in Taipei

2005

Got NVLAP ISO/IEC 17025 accreditation (Lab Code: 200705, Due date: 2008/3/31)

2004

Renamed as "PAL Acoustics Technology Ltd."

2003

Spun out from Pendec Enterprise Co., Ltd, brought existence
"Pendec
Acoustics Laboratory Ltd."

Built 2nd acoustic lab in Taipei

Established 1st China branch in Kunshan and built the 1st acoustic lab

2001

Received certification from Dell for acoustics testing, and certified by Dell as
an
independent 3rd party acoustic laboratory

1999

Built the first acoustic lab in Taipei, as a testing department of Pendec
Enterprise Co., Ltd.
Vision of PAL

Provide One-Stop Acoustic Test Toal Solution

Keep Integrity, Un-bias, and Professional

Develop Leading Acoustic Testing Services Per Market Trends
Promise of PAL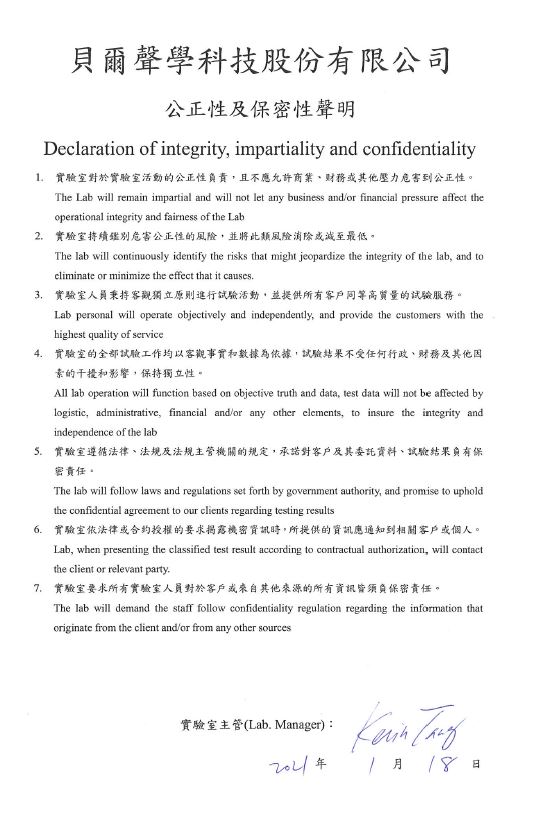 Contact Information
PAL Acoustics Technology Ltd. (Taipei Headquater)
Address: 4F, No.388, Sec.1, Nei Hu Rd., Taipei, 114 Taiwan
Tel: 886-2-26272515
Fax: 886-2-26272295
Contact window: grace_wung@pal-acoustics.com
Pendec Electronics Technology (Kunshan) Ltd. (Kunshan Lab)
Address: Room 506, No.399, Qianjin East Rd., Kunshan City, Jiangsu, China 215333
Tel: 86-512-5730-8237
Fax: 86-512-5730-8231
Contact window: Roger Wang
Contact number: 13912659120
Contact email: roger_wang@pendec.com
Dongguan Pendec Electronics Technology Ltd. (Dongguan Lab)
Address: Room 206, Leader Plaza Building, No. 303 Changching South Rd., Changan Zhen,
Dongguang City, China 523850
Tel: 0769-81501015
Fax: 0769-8150-1017
Contact: Denis Wang
Contact number: 13509019317
Contact email: denis_wang@pendec.com