Microsoft Teams Certification Test Service
About "Microsoft Teams Certification"
Microsoft Teams Certification Program
is designed to help partners bring
premium audio/video communication experiences to the market. For additional details,
What PAL Can Provide?
PAL is a Microsoft certificated 3rd party test house. We provide professional audio and
video test services that conformed to the latest "Spec". There are three types of test
services that you can choose depending
on your test purpose:
Device makers who are currently participating in the Skype for Business logo program as
Microsoft partners may submit
devices
for
formal qualification testing.
The service is targeted to device makers who are developing their products. You can get
a preview of your product
performance before applying Microsoft Skype for Business logo.
It is helpful to shorten the development time and avoid
risks of
submitting devices which
would fail formal qualification.
●
Troubleshooting / Consultant
The service is targeted to device makers who have conducted qualification test or pre-
qualification
before but failed in
some test items. You can focus on one or more test
items that you are interested
in and take proper solutions on them.
PAL can offer
consultant service during the test as part of the
service. Visiting PAL is optional if you
Service Flow Chart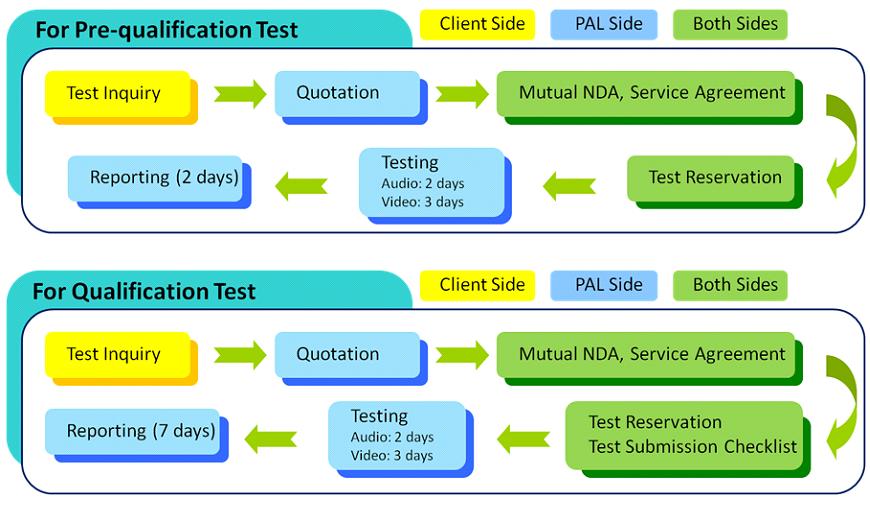 Test Fee and Quotation
If you are device maker and want to apply "Microsoft Teams Certification
",
please contact with PAL'
sales representative,